Jons Civil Engineering Company Ltd. (JCEL) has over 35 years experience, during this time we have successfully delivered a number of high profile site development and streetscape projects in both the public and private sectors.
Through maintaining its core values of emphasis on quality and the timely delivery of projects Jons Civil Engineering Limited have grown from strength to strength in this market. The nature of such works requires a keen attention to detail and quality of the workmanship and delivery of the project.
The key to Jons Civil Engineering Company Ltd's success has always been an understanding of our clients' needs and a willingness to deliver innovative solutions that ensure cost savings and meet and surpass their requirements. Our track record for delivering large and small scale projects on budget and ahead of schedule has enabled Jons Civil Engineering Ltd to become one of Ireland's largest and strongest construction businesses. In site development and streetscape works, Jons Civil Engineering Ltd work hard towards achieving the clients vision of the finished product.
One such notable project is the Cherrywood Roads and Infrastructure. The works comprise of the construction of 5.3km of new road and associated drainage and services, the upgrade of Wyattville Link Road roundabout to a signalised junction, along with 3 new large parks Tully, Beckett and Ticknick which is the first phase of the development at Cherrywood by Hines. The project has been acknowledged within the industry as an exemplary standard of site developments.
Other similar notable streetscape and site development projects completed in recent times include the Ravenswell Road park and People's Park in Bray as part of the River Dargle Flood Defence Scheme, the R132 Upgrade Works at Dublin Airport and the N4 Lucan Bypass Project.
Related Projects
The Royal Canal Premium Cycle Route
admin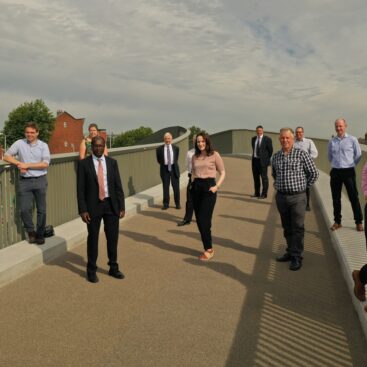 View Project...
The Royal Canal Premium Cycle Route